30 Day challenge
STAY HYDRATED
AND JOIN THE
#30DAYSHEALTHISH
CHALLENGE

STAY HYDRATED
AND JOIN THE
#30DAYSHEALTHISH
CHALLENGE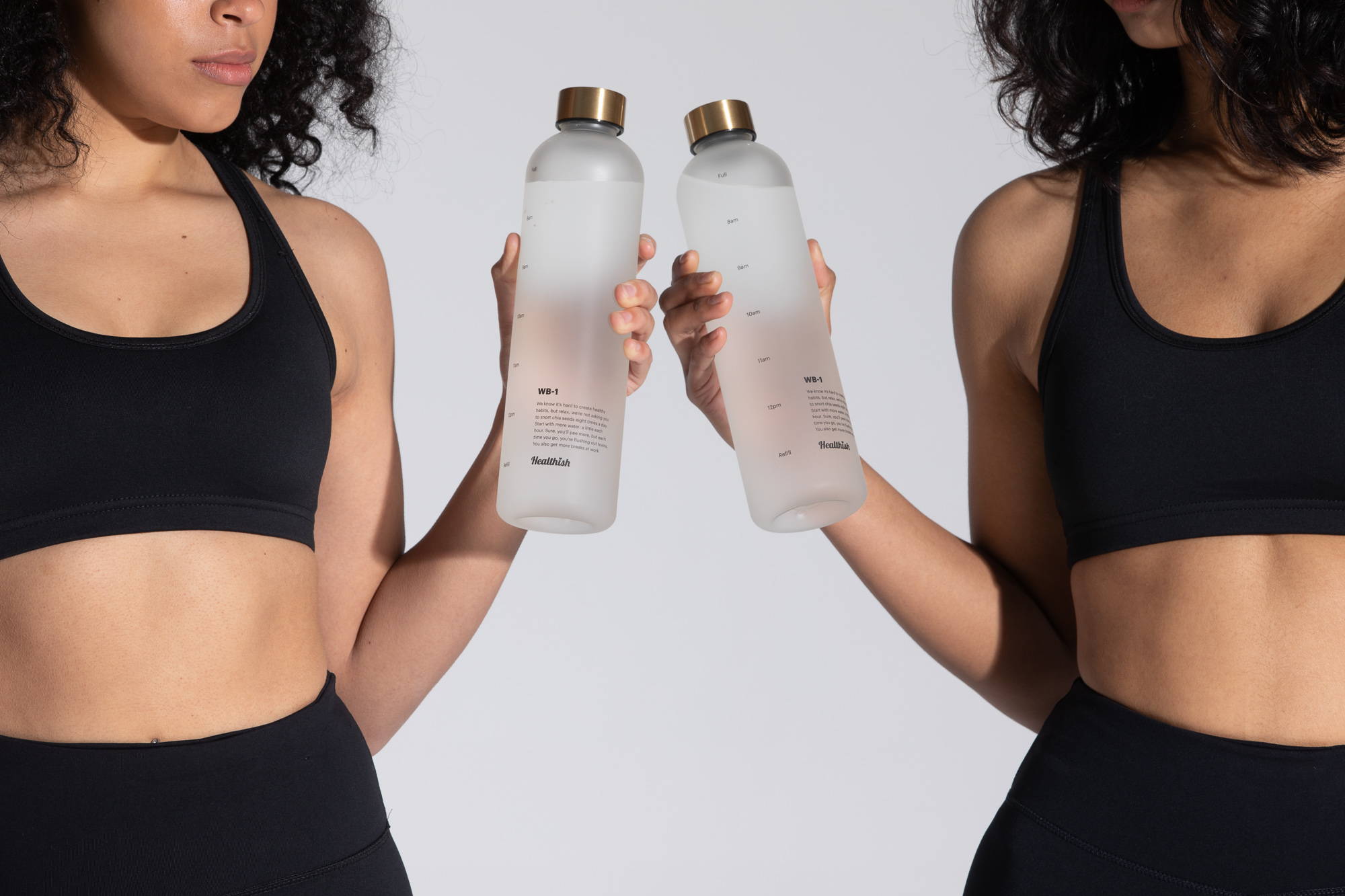 Did you know that 75% of people fail to drink enough water daily?





Did you know that 75% of people fail
to drink enough water daily?







Did you know that 75% of people fail
to drink enough water daily?




BENEFITS OF STAYING HYDRATED
- Regulates body temperature
- Helps brain function
- Aids in digestion
- Lubricates joints
- Flushes body waste
- Boosts skin health & beauty
- Maintains blood pressure
- Prevents kidney damage
- Forms saliva and mucus
- Delivers oxygen to the body
- Improves moods

We all know that there are a plethora of health benefits with staying hydrated. But more importantly, did you know that 75% of us fail to drink enough water each day?

Creating habits doesn't happen overnight, it actually requires some effort at the beginning to make it stick. Research shows that it can take 21 days for an activity to become second nature to you.
This is why we've created the #30DaysHealthish Hydration Challenge.

Here at Healthish, we're all about being healthy, realistic and more importantly, having fun.
Our WB-1 bottle features a minimal, chic design with a unique time measurement to help you keep track of your daily intake of water. Not many other bottles can do this, hey?

Let's drink 2 liters of water each day for the entire month so we can see the benefits of staying hydrated.
Keep reading to see what you'll receive by joining in!


#30DAYSHEALTHISH
WHAT YOU'LL RECEIVE

PURCHASE TODAY
JOIN THE CHALLENGE

How do I use the time indicators on the bottle?
Our bottle is really easy to use – first, fill it up to the 'full' mark and drink the recommended amount for that specific time (for example, at 8am drink until the '8am' time indicator, at 9am drink until the '9am' time indicator, etc.).
We assume you'll be eating lunch between 12pm-1pm (because you CANNOT forget to eat!) so we've left you with a bit more water to have with your meal.
That's one bottle down, one to go!
Once your first bottle is finished, refill and repeat this process between 2pm-7pm. And, voila you're done for the day!
Why is the bottle 1 litre?
We thought having a 1 litre bottle was the perfect amount
– not too much, not too little and not too bulky, not too small – just right.
When designing our bottle, we wanted something that was easy to carry. The bottle is also designed to fit in most cup holders.
How do I take care of my bottle?
To prolong the life of your bottle we recommend hand wash only, not recommended for dishwashers or with boiling water.
We recommend washing it daily with our Brush Cleaner as well as a giving the bottle and lid a soak in warm soapy water (or lemon and bicarb) for a few hours every so often and letting it completely air dry before use.
We also do not recommend using any harsh chemicals such as bleach and chlorine. This is designed for cold or room temperature liquids only, not suitable for microwaving, freezing or cooking.
Please also keep the bottle away from sharp objects and dyes due to the rubber frosting on the exterior of the bottle.
What is the healthish bottle made of?
The body is made of Tritan material BPA free plastic. The lid is made from brass with a leak proof silicone seal.
Although the bottle is frosted, it is see through so you are able to see the water levels and track how much water you've been drinking.
We put a lot of thought into this and although glass is pretty, it can be heavy and breakable which is not ideal if you're taking it on the go, especially if it's a 1 litre bottle! We don't want you drinking shards of glass or carrying heavy things either!
Most of the times when we think of plastic, we think of all the nasty stuff that can be contained in this type of material. We can assure you that our plastic is non toxic and not bad for you. We wouldn't do that to you! The great thing about our bottle is that it looks like glass but doesn't break - the best of both worlds.
What are the dimensions of the healthish bottle and how much does it hold?

Height: 28cm/11inDiameter (mouth and bottom):
3.5cm/1.4in,
7.5cm/3inCapacity: 1L/34oz
What is the difference between the healthish bottle and any other bottle?
Our bottle features a minimal, chic design with a unique time measurement to help you keep track of your daily intake of water. Not many other bottles can do this, hey?
How can I cancel or change/edit my order?
Please note that once orders have been placed, we are unable to make any changes. Please contact the courier to update this.
If your package is sent back to our warehouse, you will incur a reshipping fee.
How long does shipping take and where do you ship to?
All orders are dispatched within 2 business days. Confirmation of this will be sent to your email along with a tracking link.
Take a look at our shipping page for more details and information on shipping.
What methods of payment do you accept?
We accept credit cards and PayPal. We also accept Afterpay payments for Australian and US customers only.
Will I have to pay taxes and duties?
It's important to note that once you order reaches its final destination, your order may be subject to import duties and taxes, which is paid by the customer.
Please contact your local customs office for further information.
What do I do if I haven't received my confirmation email?
Please check the junk or spam folders of your email. If it's still no where to be seen, please email us at: support@healthish.com.
What if my item arrives damaged or is lost in transit?
We inspect every item before it is shipped out, therefore, we cannot accept any responsibility once it has left our warehouse and if your item is lost in transit or arrives damaged due to carrier carelessness. Please contact the shipping carrier for further information on your order. We would also be happy to assist should there be any problems: support@healthish.com. Please note, we are not responsible for stolen packages or any address and order errors made by the customer.
I've received a faulty item. What do I do?
On the off chance that you receive a faulty item, please contact: support@healthish.com and send a photo of the faulty item.